I absolutely detest it when I have a 'mental block' (or, more commonly known among writers as 'writers block'). It truly is the most annoying thing.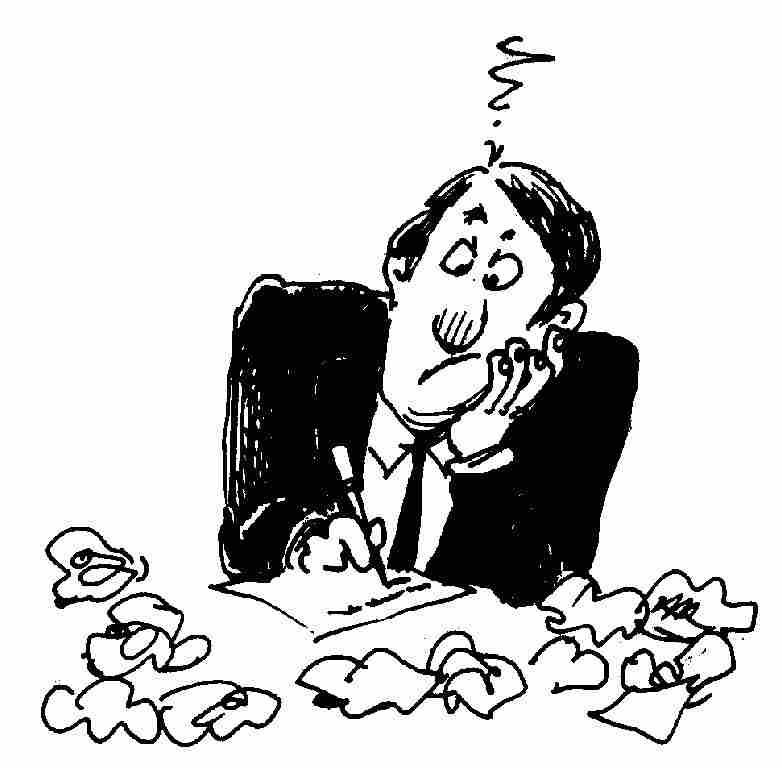 Unfortunately, I don't think there are many out there who have never had one- and it doesn't always relate to writing. I get mental blocks just walking into another room and immediately forgetting what I was getting in the first place. Or forgetting a person's name. Or what it was you were going to put on the grocery list. All sorts of things can be labeled as 'mental block'.
So, how do we, as writers with deadlines and the need to finish a manuscript, deal with such a monstrosity?
Well, I honestly don't really know. However, I have learned a few tips 'n tricks that work quite well. Here are 5 of them.
1.) Get up and walk around. Often times, when you're sitting and staring at a computer screen for a long time, your brain starts to go into 'boring mode' (as I like to call it). It is a simple science fact that when your brain isn't stimulated, it is, obviously, non-stimulated. Why do you think it's easier to watch an action movie than listen to a speaker at a conference? It's because the brain isn't being visually stimulated. So, my trick is to simply get up. Go do something for a few minutes. The best thin is to go and take a walk. There are SO many things outside to stimulate the brain. Just go and take a look. :-)
2.) While you're walking or doing other tasks, it is best to NOT think about your book/writing project. You need to get it out of your head for a bit. Let your brain rest. Believe it or not, it will still be present in the back of your head while you're occupied with other things. So you don't have to worry about forgetting anything (but then, there isn't much to remember, is there?)
3.) Experience it. Being a fictional writer, my characters can do anything I want them to. Unless I'm writing a historical fiction, I don't have to stick to any historical correctness. (Let it not be said, though, that I don't like history books!). So, in my case, I try to 'experience' what my character is experiencing. If she just broke her arm in a bad fall, what would it be like to not have the use of that arm? On comes the Ace Bandage and I make myself not use that arm for the day. How did it feel? Frustrating? Painful? What about if she had just lost someone who was very dear to her? Try to imagine what it would be like if you were in that position. What would a day look like without so-and-so. (Yes, that might be slightly morbid, but, amazingly, it works really well).
4.) Have at least two projects going at once. Not all authors like doing this, and I respect them for it. I, on the other hand, am a person that suffers from 'multiple manuscripts disorder'. My youngest brother gets on to me quite frequently about it. However, to me, it is really helpful. When I'm having trouble with my book, I can just stop writing in that one for a bit and go to another. In this way, I'm not wasting my writing time by not writing. I still get to write, but my brain is able to focus on something else for a bit.
5.) Write it all down. But wait, you just said that we have a mental block. How can we write when we have a mental block? Well, this option is for those who just want to barrel through the mental block. Some can't or don't prefer that method. Sometimes I prefer it to the others. It just depends on my mood. :-) So, the thing that helps me best it to write down all the possibilities of the next section. Does he decide to run or talk to the bad guy? If he runs, where does he go? If he talks, what does he say? You know those 'decision trees' or 'flow charts' that you did in science? The ones where you asked yourself such and such questions to identify what sort of a cell you were looking at, or what species this animal was categorized with? Well, use this same technique with your book. It's almost like an outline, except for those of us who are classified as 'visuals' (need to see it in a different way) it is easier to use and understand.
So, there ya have it. These are 5 things I've learned in my years of writing that help me best overcome a writing block. I should perhaps add a 6th. That if none of those work, look at your clock. It might be that you are up too late and your brain simply cannot and will not function at such a late hour. :-)
Do you have certain things that help with your writers block? I'd love to learn some more!